Social Change is Happening Here at Helping Hand Home
A written interview with Sonya Cheeves By: Ally Smith
In light of the recent demonstrations calling for justice and equality, the ongoing problems with racism that our country faces have been distressing for adults and kids alike. At Helping Hand Home, we believe our children's diversity should be celebrated and valued. We are committed to starting and continuing conversations that will aid our children's understanding of what racism is, and to teach them to stand up against it.
Our long time Team Leader in Residential Treatment, Sonya Cheeves, has stepped up to lead a staff initiative on matters related to race and social justice. An internal staff committee was formed to tackle these issues with a goal of creating awareness of social injustice and to show our children they can help fight prejudice.
When you took on this role to be a leader in this initiative for our children at Helping Hand Home, what was your first goal?
When I was approached to lead this social justice initiative on campus and to further The Black Lives Matter Movement, my first goal was to form a group of black staff leaders who wanted to walk this journey of creating social change on our campus. I believe this initiative will bring about positive and impactful change for the children that we serve and will raise awareness of the racism and the injustice that is happening in society today. My vision is to educate both employees and the children, not only the Black Lives Matter Movement, but also how we can get involved and make a real difference against the injustices that black people face today.
This is important because most of the children that we serve, no matter what background they are from, have experienced racism already, and maybe not even realized that they have gone through the experience. It is very important to ask ourselves, "What is our goal here at Helping Hand Home?" Our goal is to get these kids into a forever home, and these homes are in communities. Our kids need to understand that, when they go into communities, there is no doubt that they may see or witness things that are not fair. Therefore, while they are here with us, we can provide them knowledge of the injustices happening in the world so that they can make a change in a non-violent manner.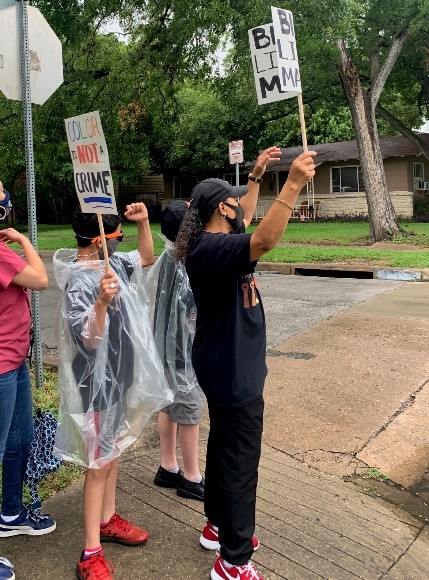 You led the children on a Black Lives Matter march in our neighborhood here in Hyde Park, can you speak about this experience and what it meant for our children?
The march that was organized to show these kids that, through peaceful and loving gestures, they can change this world at a young age. We need our kids to be able to look at our staff and see people they can relate with marching next to them. It gave them a chance to not only be more aware, but to give our kids a chance to be involved and to show their support. I believe it is our job as Helping Hand Home staff to show our kids and the community of Austin that our organization supports black children in a positive way. Our march gave them a safe place to express themselves, and the Hyde Park community support rallied around them. I think the march was so impactful for all involved.
Aside from the march, what are other organized activities and lessons that are going on at HHH in relation to making social justice?
Weekly, we have been talking to the kids in small and large groups about social awareness. This has created a safe place for them to express themselves. We are hearing many of them say, "This experience happened to me and I didn't like it" or "I may not be the same color as you, but I care about you". These moments and conversations have really connected our children in a unique way.
Aside from small groups, we also have shown video bits and read books aloud that address racism. The videos and books go over different topics and make it clear that it is not right for people to be treated differently because of the color of their skin. At certain points of the lessons we pause and ask the children if they have experienced similar things. Then we bring action into play and show the kids the correct way to respond when they see these things happen in real life.
What are the positive responses that you are seeing happening on our campus?
You know, the thing is: young people are just resilient. As adults, we just want to keep them safe, and help them understand their feelings. If you just let them speak about what they REALLY think or feel, you learn that they actually grasp a lot more than what you think. Speaking to them and educating them about Black Lives Matter has shown our staff how amazing our kids' minds really are. They see each other as friends. They do not see color, and they just simply see a friend. Our kids want to protect each other. I am also seeing a great number of staff that want to get involved, not only for the morale of our staff, but for the sake of our children.
How will Helping Hand Home continue this initiative in conversations with our employees?
One of our staff members, Jerry Manning, has been heading up conversations with our staff. He has created a safe place for staff to speak on their experiences. These conversations have allowed space for us to speak about our experiences, and how we can use these to better our children's lives. In our meetings, we talk about plans for curriculum that will have a different theme each month. We collaborate on ways to address a theme and teach it in a way that will be meaningful to the kids.
If someone from the community wanted to get involved, what would your best answer be?
I want outside supporters to continue encouraging our children that THEY MATTER. I believe our HHH community does a great job at that. Something I think that would be very important is to continue a collaboration with more groups and volunteers who are strong black mentors. Our HHH volunteer program provides individuals many options to get involved: such as homework helpers, bedtime readers, and beyond that. I believe our kids will see the difference if we bring in these strong role models through our doors that will not just teach them, but can actually share experiences with, and spark ideas in our kid's minds on future goals and dreams.
If someone who grew up with a similar background as our kids wanted to speak to them about how they overcame racism, I think that would be awesome. We would be more than willing to accept books, artwork, and activities that encourage social change and leadership from black individuals in our community. This would be a great way for more people to step up to help create and maintain this positive shift on our Campus.
Helping Hand Home for Children is dedicated to pursuing actions that support the quest for true equality that the Black Lives Matter movement seeks. We want to thank our staff, foster families, and supporters for standing with us. We remain overwhelmed by how supportive our community is, and we cannot say thank you enough! This is a great lesson for our children: when we all get involved, we can rise together.