Our Vision
A society where every child is free from abuse and neglect and can grow and thrive in a nurturing home.
Our Mission
To bring hope and healing to children and families through a continuum of trauma-informed, therapeutic care including residential, foster, adoption, and support services.
Our Impact
Developing physically and mentally healthy individuals who will break the cycle of child abuse as they grow and create families of their own.
We Believe
that each child deserves a loving and permanent home. Our goal is to protect and restore the lives of victimized children, so that those without hope can reclaim their futures. We enrich, educate and empower through loving care, professional treatment and innovative services that heal.
Commitment to Quality
Helping Hand Home for Children is committed to best practices, performance and quality improvement, evidenced-based services and stakeholder involvement. Being nationally accredited through the Council on Accreditation demonstrates our commitment to the highest possible standards amongst our peers in child welfare. We are proud to be a part of this community of excellence.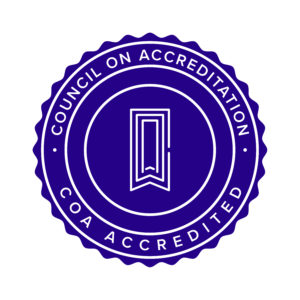 Commitment
We are passionate about child welfare, believing that children deserve to be children, and therefore are energetically committed to best practices, evidence-based services, and stakeholder involvement so that the children in our care can eventually be placed in a loving and permanent home.
Empathy
We believe that empathetically listening to, recognizing, and understanding another person's perspectives, experiences, and feelings is the cornerstone of strong, trust-based relationships, which enables us to make a significant difference in the lives of the children we serve.
Support
We understand the significant impact of trauma on childhood development; that trauma manifests as behavioral and emotional issues; and that healing is a nonlinear progression.  As a result of this understanding, our staff earnestly support the unique needs of every individual child in our care in order to foster healing.
Collaboration
We promote a holistic approach to healing through the close collaboration of our teams who work together to deliver a continuum of services which includes a foster and adoption program, therapeutic residential treatment, education at an on-site charter school, and a family support program.